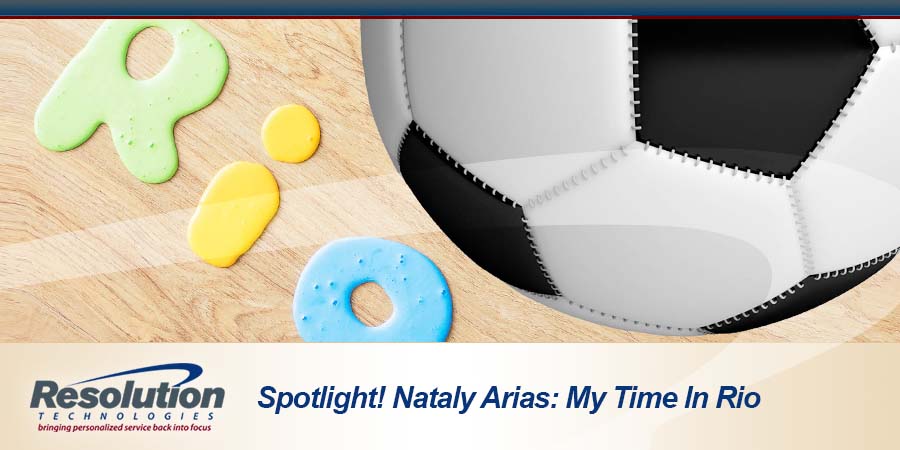 Resolution Technology's own Nataly Arias had the opportunity to participate in the 2016 Olympic Summer Games held in Rio De Janeiro, Brazil as a member of the Colombian Women's Soccer team. Here, she shares some of her experience with our readers during an interview.
What were your overall impressions of the Rio Games?
Obviously, it's hard not to sound cliché, but it was an incredible experience. The beautiful climate and environment were wonderful. The people were welcoming and were great hosts. Excellent security. We were really well taken care of, but also got the cultural aspect. It was a beautiful experience.
Did you have any especially fun moments in Rio?
Our last group match when we tied the U.S. The game had a lot of fans for Colombia. It was an incredible environment with lots of energy and support. We really felt the crowd pushing us through. We tied the world champions, and were beating them at one point. I really felt good about that performance.
Were you able to spend time at any other sporting events?
Unfortunately, we were never actually in Rio. The soccer teams traveled around the country. In Belo Horizonte we played France, and New Zealand at the Estádio Governador Magalhães Pinto known as Mineirão. We played the United States in Manaus at the Arena da Amazônia. Manaus is very famous, very tropical. We were not in the [Olympic] Village to experience the other sports.
What is your biggest takeaway from the games?
The understanding that these Olympic Games was an exciting time for the Women's sports in general.  Female professional athletes are seeing more true support. Not just from fans, but also from big companies, big agencies, trying to represent women from other countries and pushing the sport forward.  Global organizations, such as FIFA, are trying to create programs where women are receiving financial support and most importantly the opportunity to play for their country on the world stage to push women's soccer forward.
Due to our success, Colombia will be launching a professional league for women. This platform gave a lot of girls, from all over the world, a chance to see us as role models, and to see that maybe they can grow and develop in sport. Global awareness was most rewarding, especially for women.
Is there a moment where you were especially proud of yourself, your team, your nation?
[I was] proud of our nation. This was the most successful time in our history. We won numerous medals, and most of the gold medalists were women. This was very fitting in the sense that we don't normally get the same notoriety and support. The disparity is much larger in Colombia than here in the United States.
For the women that took it upon themselves to do so well, having women at the top of their sport, trying to create cultural change within Colombia, they are not only helping the sport, but also helping women have a better place in society.
Is there anything else you would like people to know about your experience?
I am very grateful to Resolution Technologies. They gave me the opportunity to compete.
Throughout this process, it looks incredible from the outside, but it is a lot of sacrifice, even though it is a sacrifice you are happy to make. I've been doing this since I was four years old. As an adult, still being able to pay your bills and be independent of your parents, still having to train and knowing that it's not free, the struggle was more than worth it. I am grateful.
People need to know it was a struggle. I had faith in myself and a great support system. A huge part of that was the company I work for, and them allowing me to come back, especially Joe Bell, the president of [Resolution Technologies]. I want people to know that, although it was fun, it was still difficult. It wouldn't have been possible without the support of my company.

https://resolution-tech.com/wp-content/uploads/2016/10/iStock_81347993_MEDIUM.jpg
1241
1546
Resolution Technologies
https://resolution-tech.com/wp-content/uploads/2014/04/logo.png
Resolution Technologies
2016-10-12 11:45:55
2016-10-17 15:51:00
A Reflection On Rio