How To: Create the Most Effective LinkedIn Profile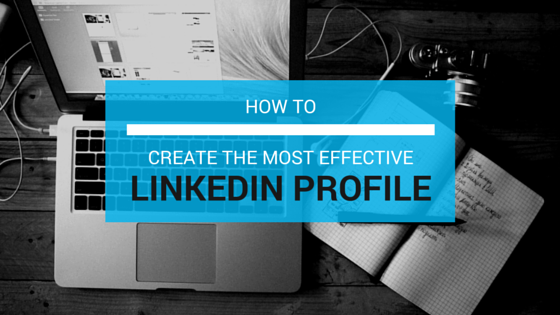 In the age of the Internet, social media is becoming a vital tool for finding your next job and networking with employers. The most powerful business networking tool out there right now is LinkedIn. With over 350 million users from 200+ countries, the networking possibilities are endless. In this blog post, you'll learn why LinkedIn is important and how you can create the best profile to grow your personal brand.

Your personal brand is how you distinguish yourself against other candidates and relay to a potential employer why you're the best for the job. Because your name is searchable on the Internet, your personal brand also reflects the information that's available on search engines like Google and your social media profiles. In order to use this to your advantage, it's important to build a LinkedIn profile that accurately reflects your personal brand.
LinkedIn gives you the opportunity to connect with other industry professionals, share content, join discussions, and create and build valuable business relationships. If you're serious about building your personal brand and using social media to do so, LinkedIn must be a part of your social media mix. Let's discuss some tips for creating the best LinkedIn profile to get you noticed by potential employers.
Key Elements of a Great LinkedIn Profile
Professional headline— Below your name, there's room for you to create a tagline for yourself that will show up not only on your profile, but also on LinkedIn Search. You'll want to include keywords that will make sure recruiters can find your profile when they search for professionals in your area. Here are some examples:

Software Developer at ABC Company
Sr. Network Engineer at Technology Corp.

Photo— Upload a professional headshot to make your profile stand out. Recruiters are more likely to view your profile if you have a photo. Make sure to use a photo that is business appropriate.
Background— Choose a creative background that reflects your personal brand. If you're familiar with a Facebook cover photo, the LinkedIn background is very similar.
Contact info— Once people connect with you and are interested in your profile, they'll need a way to contact you if they think you'd be a great candidate for their available position. There is a LinkedIn direct message feature, but there's room on your profile to add your email, phone number, address, website, etc. Provide whatever information you're most comfortable with sharing.
Showcase your work (adding media)— LinkedIn allows you to add elements of your portfolio for your connections to see. This is a great way to display documents, photos, presentations, or videos that you've created. By showing examples of your work, potential employers or recruiters can get a better understanding of the work you've done. You can even add your resume to your profile.
Recommendations— Have a previous manager or co-worker that knows a lot about your skill set and how great of an employee you are? LinkedIn allows you to request written testimonials that show up under the respective company or position. This has the potential to be one of the most powerful aspects of your profile.
Skill and endorsements— Adding skills to your profile showcases your strengths. It also creates keywords that recruiters and employers will find when they search your profile. Your connections can even "endorse" you for your skills. Here's an example of the skills section: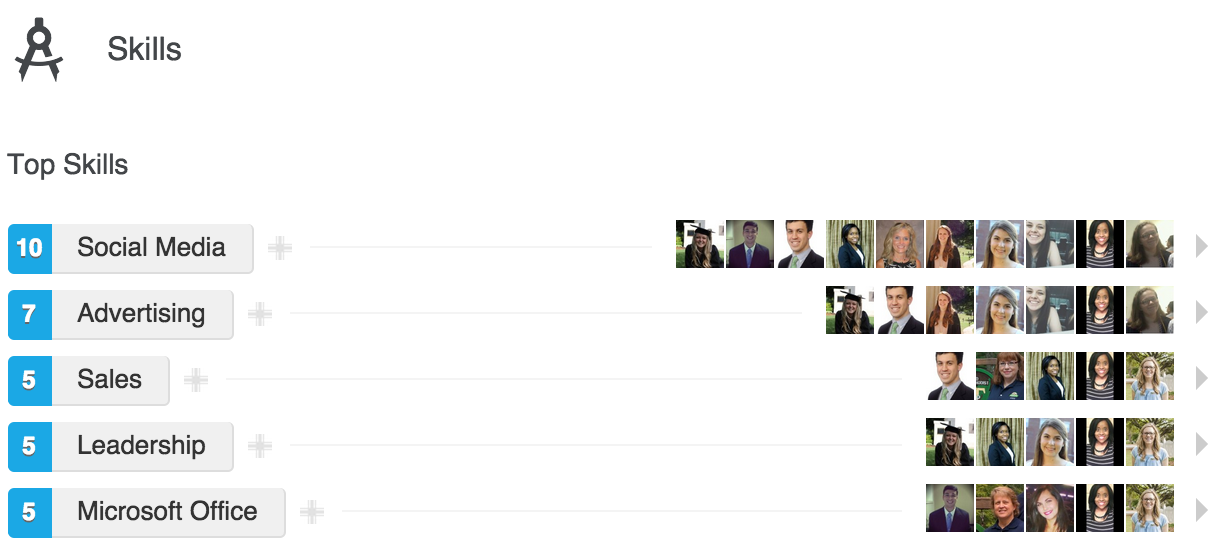 The number and photos correspond to your connections who have endorsed you for a certain skill.
Staying Active on LinkedIn
The name speaks for itself — if you're going to create a LinkedIn profile, it's important to be active and stay engaged. One of the best ways to build relationships and grow your network is by using the website's "people you may know" section to find former classmates, coworkers, or others in your industry. You can also run an advanced people search and find alumni as search tools to add connections.
Joining groups is another way to stay active in your network. There are millions of groups for LinkedIn users varying from IT Professionals, Young Professionals, and Your Local Alumni Chapter. Groups exist to share content and ideas, as well as bring people together. You can even build your own group if you can't find one you like. Within a group, you can participate in discussions about hot topics, ask questions, and even share your own content, like blog posts or your favorite articles. Which brings us to our next point…
Generating Original Content
LinkedIn used to be a platform to strictly make connections and search for jobs. It has now become more social and allows for users to share their own content. You can publish your own blog posts and become a thought leader in your industry. If you had something to share, you can share it on your own feed to your connections, as well as to groups you are a member of. This is a great way to showcase your expertise and show that you're keeping up with the latest trends. You never know, someone could read your blog post and contact you about an available position. Just be sure to keep your content appropriate and professional. Publishing original content can lead to a stronger personal brand.
So, what's the biggest takeaway?
We've shared a lot of information with you about creating a LinkedIn profile to build your personal brand. This will get you started, help you find connections, and allow you to gain valuable exposure in your network. However, the most important thing you can do to get noticed by recruiters and employers is STAY ACTIVE. Don't let your profile just sit there and take up space in the LinkedIn world. Create a profile and then fill it with as much information as you can about yourself and your professional experience. Your LinkedIn profile serves as a visual resume, so use this to your advantage. You might just find your next career challenge if your profile is strong enough and used to its greatest potential.
Want to learn more about using social media in your job search? Check out our recent blog post to learn how!
Here at Resolution Technologies, we understand that serving our clients and consultants is what matters most and promise to never lose sight of that! We take the time to understand your individual needs through face-to-face interaction and strive to always make sure your objectives are met. Resolution Technologies is a full-service Information Technology Staffing firm offering flexible solutions for our clients ranging from contract, contract-to-perm, and direct perm placements. Whatever your needs are, we promise to provide unrivaled quality and service.
https://resolution-tech.com/wp-content/uploads/2015/06/CAREER-1.png
800
800
Resolution Technologies
https://resolution-tech.com/wp-content/uploads/2014/04/logo.png
Resolution Technologies
2015-06-05 19:50:09
2015-07-30 14:35:33
How To: Create the Most Effective LinkedIn Profile