Navigating Your First Week on the Job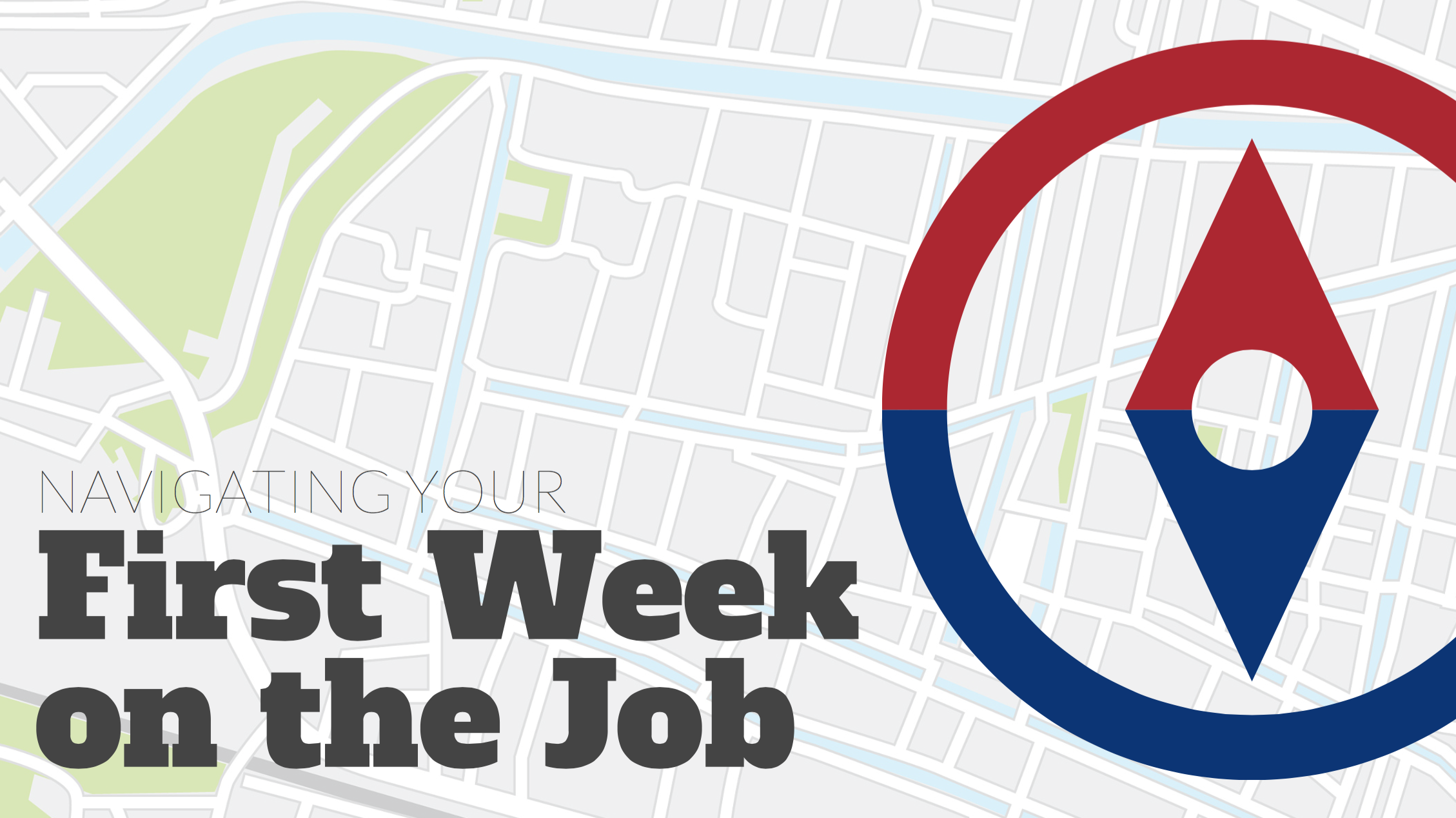 Starting a new job is exciting, but it can also be a bit overwhelming to try and adapt to a new environment. Especially if you're coming from a company that you've been at for a while, it can be difficult to get used to a new work environment with a different culture and team. With a ton of information coming at you from every direction, it's important to know how to process it correctly. In this post, we'll share with you our best advice for surviving your first week at your new workplace.
Be a sponge.
Your first week, you're going to hear and receive a lot of new information about your new company and position. You'll learn about company culture, preferred work and communication styles, new systems, top projects and customers, office politics, and company and department-specific goals. We could go on and on, but you get the point — information overload.
One of the best things you can do is absorb everything you can. Make sure to attend new hire orientation, team and office meetings, any other things that you think may pertain to your job. By sitting in on these meetings, you'll start to understand what's important to the organization and the part you play in the organization's success.
If you get invited to happy hour, lunch or coffee with your fellow coworkers, don't be afraid to say yes. Even if it pushes you outside of your comfort zone, you'll start to make friends that you can count on at work. Being a part of a team requires everyone to participate, so saying yes will show your excitement and enthusiasm to be part of this new group.
Ask questions.
If you're unsure of a project or process, it's better to ask questions than to stay silent. As you receive new information, taking detailed notes will help you remember what you've learned and will give you something to review in the future. Writing something down will also ensure you don't ask the same question twice.
Offer help.
The first few days of your job, you may have a lot of down time while you're trying to adjust to your new role and environment. Your boss may also still be getting together your tasks and responsibilities. Instead of just sitting there with nothing to do, show initiative. Volunteer to help a coworker on a project. Even if someone doesn't have something for you to do, offering help will show that you're willing to put in effort to better the team.
Find a mentor.
When you're the newest employee in the office, it can be difficult to start making connections and understanding how everything works. Find someone who has been at the company for a while and has good understanding of what's going on. By having someone to talk to with more experience and knowledge of the company, you'll make an easier transition. This can be a team leader or manager that others look up to as well. He or she will be able to help you make more connections within the company and give you advice to get started in your new role.
Good luck!
Even though these are tips for your first week, you should carry on these habits through your first month, year and beyond of your job. By being an engaged employee, you'll showcase your dedication and commitment to excellence. Better work habits lead to better performance, so take the steps today to make yourself a valuable hire for your organization.
---
Want to join the Twitter world as a professional? Check out our blog post, Should I Be Tweeting Professionally? to learn more about using this social media platform in your job search and networking.
Click here to view our IT and business job board.
Here at Resolution Technologies, we understand that serving our clients and consultants is what matters most and promise to never lose sight of that! We take the time to understand your individual needs through face-to-face interaction and strive to always make sure your objectives are met. Resolution Technologies is a full-service Information Technology Staffing firm offering flexible solutions for our clients ranging from contract, contract-to-perm, and direct perm placements. Whatever your needs are, we promise to provide unrivaled quality and service.
https://resolution-tech.com/wp-content/uploads/2015/06/CAREER-1.png
800
800
Resolution Technologies
https://resolution-tech.com/wp-content/uploads/2014/04/logo.png
Resolution Technologies
2015-07-28 12:40:55
2015-07-30 11:21:30
Navigating Your First Week on the Job